| | | | | |
| --- | --- | --- | --- | --- |
| 9/16/99 | HP Dr. Drake | Biochemistry | Summary Notes | L. Van Warren |
Chapter 4
Amino Acids



Proline
There are 20 amino acids.
They are called the a amino acids.
Except for Proline they all have a primary amino group and a carboxylic acid group on the same carbon
1. The Amino Acids of Proteins
A. General Properties

pK1 is the a-carboxylic acid and
pK2 is the a-amino group and
pKr are the side groups with acid base properties
In the physiological pH range, both the carboxylic acid and the amino groups of the a-amino acids are completely ionized.
Molecules that bear charged roups of opposite polarity are known as zwitterions or dipolar ions.
B. Peptide Bonds


The CO-NH linkage is known as a peptide bond.
Short peptides of length 2, 3 and a few an many are known as
dipeptides, tripeptides, oligopeptides and polypeptides.
Proteins are molecules that consist of one or more polypeptide chains.
Polypeptides are linear polymers.
The various organisms on Earth collectively syntheisze an enormous number of different protein molecules whose great range of physicochemical characteristics stem largely from the varied properties of the 20 "standard" amino acids.
C. Classification and Characteristics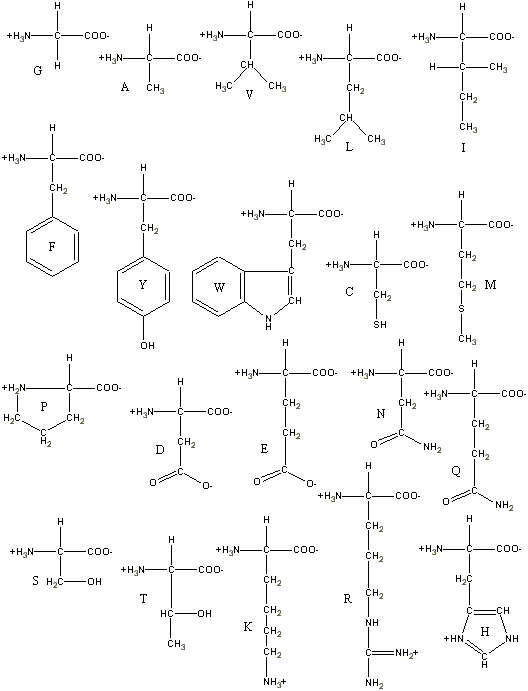 There are three classes of amino acids.
1) those with nonpolar R groups
2) those with uncharged polar R groups
3) those with charge polar R groups
The Nonpolar Amino Acid Side Chains Have a Variety of Shapes and Sizes
G,A V, L I, M, P, F, W
Uncharged Polar Side Chains Have Hydroxyl, Amide, or Thiol Groups
S, T, N, Q, T, C
Cysteine has great importance, it can join separate polypeptide chains or cross-link two cysteines in the same chain.
Charged Polar Side Chains May Be Positively or Negatively Charged
K, R, H, D, E
The basic amino acids are KRH
The acidic amino acids are DE
The hydroxylic amino acids are Serine, Threonine, and Tyrosine
Only histadine with pKr=6.0 ionizes within the physiological pH range.
Histadine side chaings often participate in the catalytic ractions of enyzmes.
The 20 amino acids vary considerably in thier physicochemical properties such as polarity, acidity, basicity, aromaticity, bulk, conformational flexibility, crosslinkability, hydrogen bonding and chemical reactivity. These several characteristics are largely responsible for protein's great range of properties.
D. Acid-Base Properties

pH = pK + log([A-]/[HA])
Amino acids and proteins have conspicuous acid base properties.
Amino Acids never assume the neutral form in aqueous solution.
pI = 1/2(pKi + pKj) where Ki and Kj are the dissociation constants of the two ionizations involving the neutral species.
Proteins Have Complex Titration Curves
E. A Few Words on Nomenclature

Glx means Glu or Gln
Asx means Asp or Asn

2. Optical Activity

except for glycine all the amino acids are optically active.
Optically active molecules have an asymmetry such that they are not superimposable on their mirror image in the same way that a left hand is not superimposable on its mirror image, a right hand.
Left and right hand corresponding molecules are called enantiomers.
Only when probed by plane polarized light or by reactants that thave chiral centers can they be distinguished or manipulated.
A. An Operational Classification
Molecules are classified as dextrorotatory (right) or levorotatory (left)
A polarimeter measures the optical activity as specific rotation.
Proline, leucine and arginine have specific rotations of -86.2, -10.4 and +12.5 degrees.
So it is conceivable that pure substance identification could be done with a polarimeter, and that mixed sample identification could be done, with simultaneous solution of equations.
d (dextro) and l (levo).
B. The Fischer Convention
Molecules are classified as dextrorotatory (right) or levorotatory (left)
Horizontal bonds extend above the plane of the paper.
Vertical bonds extend below the plane of the paper.
All a-amino acids derived from proteins have the L stereochemical configuration.
The CORN crib mnemonic.
Diastereomers Are Chemically and Physically Distinguishable
C. The Cahn - Ingold - Prelog System
Atoms of hinger atomic number bonded to a chiral center are ranked above those of lower atomic number.
The order of prioriy of some common functional groups is:
SH > OH > NH2 > COOH > CHO > CH2OH > C6H5 > CH3 > 2H > 1H
If the order of groups W --> X --> Y as seen from the direction is clockwise, then the configuration of the asymmetric center is designated (R) (Latin: rectus, right). If the order of W --> X --> Y is counterclockwise, the asymmetric center is designated (S) (Latin: sinistrus, left).
A major advantage of teh Cahn-Ingold-Prelog or RS system is that the chiralities of compounds with multiple asymmetric centers can be unambiguously described.
Prochiral Centers Have Distinguishable Substituents
Two chemically identical substituents to an otherwise chiral tetrahedral center are geometrically distinct.
Planar objects with no rotational symmetry also have the property of prochirality.

D. Chirality and Biochemistry
Ordinary chemical synthesis produces racemic mixtures.
The biosynthesis of a substance possessing asymmetric centers almost invariably produces a pure stereoisomer.
3. "Nonstandard" Amino Acids

A. Amino Acid Derivatives in Proteins
In all known cases but selenocysteine, the other amino acids which are components of proteins result from the specific modification of an amino acid residue after the polypeptide chain has been synthesized.
Among these are 4-hydroxyproline and 5-hydroxylysine, both of which are important constituents of collagen.
Ribosomal proteins known as histones may be methylated, acetylated, or phosphorylated.
B. Specialized Roles of Amino Acids
Nature tends to adapt materials and processes tht are already present to new functions.
Certain amino acids are important intermediates in various metabolic processes.